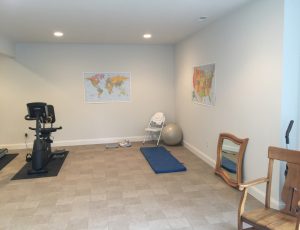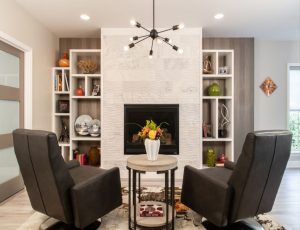 BEFORE – LOWER LEVEL AFTER – LOWER LEVEL WITH FIREPLACE
Three years after moving to their custom-built home, this Chesterfield couple was ready to complete their lower level and called Beautiful Rooms for assistance. Currently, the space was only being used as a large workout room. They had specific requests for new flooring, a direct-vent gas fireplace, seating, dry bar, workout area and full bathroom. The existing space had finished walls and a rough-in bath with sheet vinyl flooring throughout. Since they did all their entertaining upstairs, the new space was to be a private retreat for the two of them. They requested clean lines with neutrals accented by bright colors and wanted the lower level to reflect the same modern look as the main floor.
After deciding to work with our recommended contractor, they approved our floor plan which created a separate room for the workout equipment. That room would be accessed by a pair of French doors with a matching pair going into the unfinished area. On one end, there were 2 large windows and a sliding door so the fireplace was located on the blank exterior wall at the other end. This left the space by the windows for a counter height table and a small lounge area. Our first selections were wood-look LVP (luxury vinyl plank) for the flooring and an area rug with bright colors, to set the color scheme. After approval on the fireplace wall design, a textured Carrara marble tile was chosen for the face with striped wallcovering behind the custom shelving.
In front of the fireplace, a Sputnik light fixture was positioned between two recliners. They did not want to over-furnish the lounge area to keep a wide walkway between the dry bar on the other side. Repeating bright colors in the upholstery pieces gave them presence and floating cabinetry for the dry bar and bath vanity increased the feeling of spaciousness.
The bathroom was finished with chrome plumbing fixtures and a crystal light fixture. In the large shower, rectangular tile was installed vertically featuring a mosaic stripe of stone, glass and metal.
Since the new lower level provides many comforts, they are spending lots of time down there!
This lower level was a finalist in the 2020 Architect & Designer Awards!