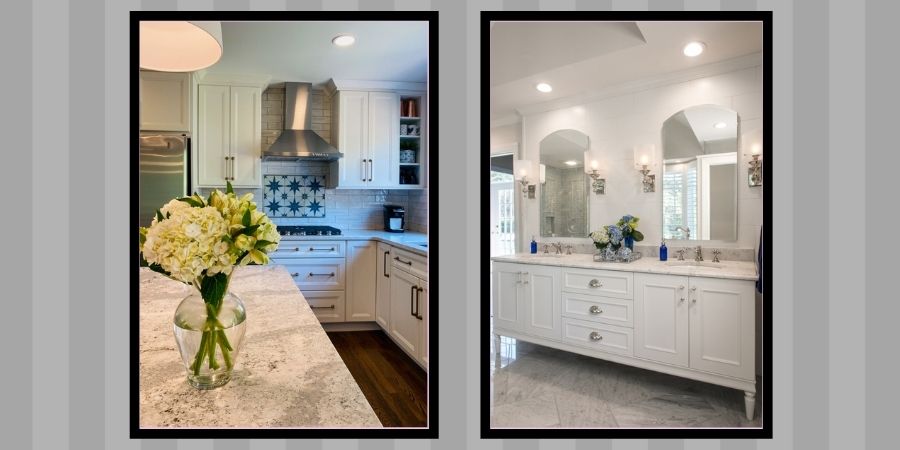 Some clients have a difficult time choosing the kind of countertops they want when building or remodeling their kitchens and baths. Consider personal preference on look, cost, heat and stain resistance, maintenance, ease of cleaning and, perhaps, resale value.  (In terms of investment, think twice before putting new countertops on dated cabinets.)  Here's the 411 on some of the choices, with all but one category suitable for either room.  Once you have decided on the material, you still have choices on the price point, pattern, color and edge style.  In kitchens, you may choose two or more materials for variety.  A design professional can assist you through the maze.
Laminate
The most budget friendly choice is seeing a resurgence due to retro looks.  There are endless colors and patterns that resemble stone, metal, wood and concrete.  It's versatility and price make laminate popular in the commercial sector.  Laminate doesn't stain but is heat sensitive, can scratch or chip and has fewer edge style choices.
Tile
Depending on the tile you choose, it can be on the lower end of the price spectrum.  Grout lines are visible and difficult to keep clean but tile is easy for DIYers to install.  Most options are stain resistant and not easily scratched but can crack if heavy objects are dropped on the countertop.  All edges are finished with bullnose tile, wood or metal and natural stone tile needs sealing.
Wood
The warmth of wood is the main attraction.  Butcher block has long been used as a countertop because it is easy on knives.  Just like your wood cutting boards, they scratch and may warp with too much exposure to water so it shouldn't be used near the sink.  Any wood can be used as a plain island but will need to be sealed frequently and maintained like furniture.  Wood is available with many edge treatments and can be refinished as needed.  For the eco-conscious, countertops can be made from reclaimed wood which has excellent heat resistance.
Concrete
Considered a more contemporary look, the main advantage is concrete countertops can be created in a single pour with no seams.  Priced on par with a medium granite, it takes an experienced professional to fabricate correctly.  Concrete can be custom tinted to your choice of colors and a sealer is needed regularly to prevent staining. Surprisingly, it is easily scorched.
Metal
Almost any metal can be made into a countertop as they are nonporous, antimicrobial, easy to clean and heat resistant but most are noisy, scratch or dent easily and can be etched with acidic foods.  Stainless steel is seen most often in commercial kitchens and the look is considered cold by most homeowners.  With copper, zinc, pewter, bronze and brass, the finish oxidizes over time which changes the look or patina, sometimes irregularly.  Both bronze and brass are harder and less susceptible to scratches and dents.  All are expensive because you are buying a sheet of metal that will need to be bent, soldered and fit to your space.  There are a variety of edge options.
Granite
Once the most desired material, granite has come in second for the past 5 years.  Due to the increased popularity of white kitchens, granite's generally darker colors and care have taken a back seat to lighter, easy-care quartz.  Heat resistant, hard to scratch but can be chipped (and repaired), granite does need to be sealed regularly to prevent staining.  Standard thickness is 3cm (1.25") so beware of lower pricing for 2 cm (.75") which is not as durable.  If you prefer the more luxurious look of even thicker countertops, make sure your cabinets and floors can hold the extra weight.  Many edge styles are available and edge treatments can be added to give the appearance of thicker granite.  Pricing is by grade with the lowest for more common patterns and can go way up from there.  Since granite is a natural stone, you will need to reserve the number of slabs necessary for your job from the same stone cutting to have color continuity.  There will usually be seams but a careful template layout of your job can make them nearly invisible.
Marble
Historically, marble is the princess of all countertops: beautiful and high maintenance.  (Above right photo shows Carrera Marble.)  Softer than granite, marble is a natural stone that scratches, chips and stains without regular sealing.  In addition, it can etch with acidic vinegars and wines which dull the finish.  If you choose marble, it is best to understand the limitations and accept the imperfections with aging as character.  Marble stays cool which makes it an excellent choice for rolling out pastry.  Pricing starts at a medium granite and goes higher. Beware of engineered marble (marble pieces and resin) and cultured marble (marble dust and resin) which are usually only available in prefab counters for bathrooms.  The same caveats apply to thickness, reserving multiple slabs and templating as stated in the granite description.
Exotic Stones
Examples include quartzite (not to be confused with quartz), slate and agate.  These beautiful and rare stones start pricing at the higher grades of granite and go up.  Quartzite has a similar look to marble but is harder and more durable so it may be an even trade, dollar wise.  Slate can be brittle on the edges and agate can be very busy.  Each kind of exotic stone has it's own limitations that should be considered.
Quartz
The reigning favorite countertop material is sometimes called engineered stone.  Quartz is man-made by combining crushed stone waste and less than 10% resins to form slabs that have no pattern repeat.  There are many companies that make quartz but the top three manufacturers are Cambria (shown in upper left photo), Caesarstone and Silestone.  Quartz has graded price points starting equal to a medium grade granite.  Again, be cautious on lower pricing as it may be made in China, known to have inconsistencies in quality.  Quartz is durable, easy to clean and heat resistant, although I would still use a trivet for hot pots.  It can be scratched so do not use abrasive cleaners or pads.  There are many patterns and colors with as many edge styles and treatment choices as granite or marble.  Quartz can be whiter in color than natural stone which has made it more popular along with the fact that it needs no sealing.
Bathrooms only
There are solid surfaces that work nicely in an extra bathroom but are thinner and have little heat resistance making them unsuitable for kitchens.  Cultured marble and cultured granite are two examples that are made with stone dust or pieces and resin.  It is also available in sheets for walls.
Choose carefully.  When I was updating my kitchen, for budget reasons, I chose a darker, common granite called Santa Cecilia.  The specks of black, brown, gray and gold make it very difficult to see if it is clean.  You may think that sounds like a positive but kitchen counters should be sanitary and I have to get down to eye level to see if I missed a spot.  In addition, I once read that you will tire faster of the common patterns.  After 9 years, I have to agree.