June 2020    At home with Nancy Barrett in Chesterfield by Jim Winnerman
After an initial career and education as a graphic artist, Nancy realized her true ambition was to be an interior designer.  "As a teenager, my mom always let me decorate my own room, and later, I was frequently asked for my decorating advice." she remembers.
Her interest in décor never abated, and in 1995 she decided to switch occupations, follow her dream, and open her own decorating studio.  At the same time, she enrolled in St. Louis Community College-Meramec to pursue a degree in interior design, which she completed while getting her business started. "Getting the degree was important to me," she says.
"Most of my design business was for clients who preferred traditional décor.  However, currently the most requested style is 'transitional,'" she says, explaining that the younger generation's preference for clean lines and a simpler style has influenced a change in St. Louis.
"I have no difficulty adapting to the design style of any client, whether it be traditional, contemporary or any preference in between. It is important I understand what people want in their homes so it can reflect their taste," she says.
Nancy describes her own home décor as "eclectic with a mix of old and new," with a preference for patterns, pictures and colors that reflect nature.
For example, under the vintage breakfast table the rug displays a pattern of tree branches.  On the wall are framed prints of eggs, certainly appropriate for the breakfast table.  A 4 x 6 painting in the living room is of a dandelion. Pillows, curtains, and a blanket in the master bedroom have a contemporary floral pattern, as does her formal chinaware.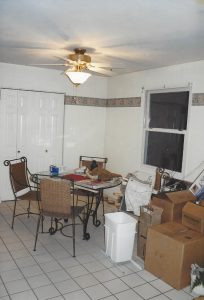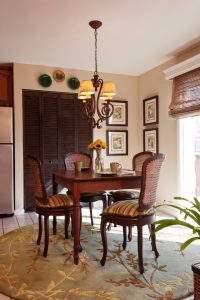 Colors are also earthy.  The dining and living room walls are "pumpkin pie orange", and the guest bedroom is "sea glass green."
Several vintage pieces are from family.  A buffet in the dining room belonged to her grandmother, while the dining room table and chairs belonged to her parents. A vanity once belonged to a great aunt, and dates to 1901.
An heirloom from an unknown family is a painted and distressed work table in the master bedroom purchased at a farm auction.
Eclectic décor includes old wooden shutters flanking the guest bedroom bed, an ornate carved wooden balustrade repurposed as an accent table capable of holding one glass of wine, and a straw lamp shade that resembles a modern interpretation of a top hat. Two window cornices have been put to new use as display shelves in the living room.
A collection of Majolica plates, all incorporating some element of nature into their design, is displayed in the living room, dining room, breakfast room, family room and guest bathroom.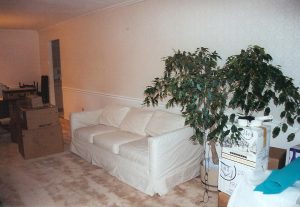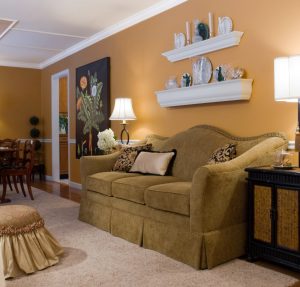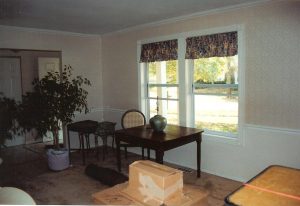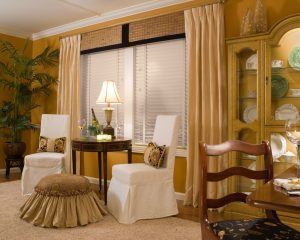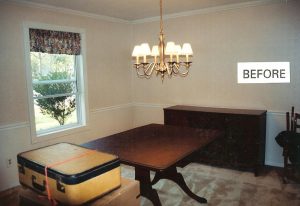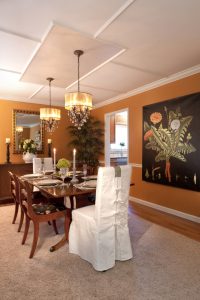 Nancy's affinity for nature extends outside to her mailbox. In the summer it is decorated with a cover of flowers and a hummingbird. In the winter she changes the scene to Cardinals against a background of snow.
Instead of remodeling a room all at once, Nancy has redone the kitchen and master bath in stages over several years. Separate projects in the kitchen include refinishing the cabinets and installing new countertops and appliances. A tile backsplash with a band of mosaic under the kitchen window were added when the countertop was replaced.
In the master bathroom a curved hanging vanity was added and is lit from below.  When the prior vanity was removed, it was discovered the area was not finished, so a pattern of tile matching the curve of the vanity was added on the floor below.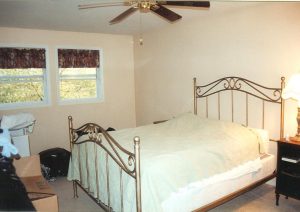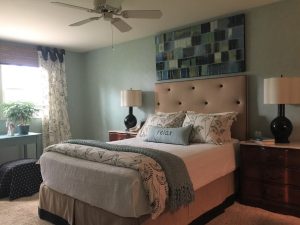 "This is by far the longest I have stayed in one house," Nancy says.  "Previously I lived in several homes, but none more than eight years, but I have been here since 2003.  "I personally am a 'homebody,' and I decorated the way I enjoy living.  It is wonderfully comfortable for me."